Canadian Mortgage Centre
---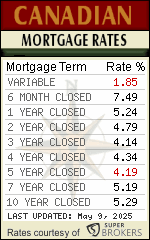 LET AN EXPERT DO THE HUNTING
Together with CanEquity's national Canadian mortgage brokering network our new mortgage services are absolutely free and may save you thousands of dollars on high interest charges and monthly payments. Finding you the right mortgage from 75 major lending institutions across Canada is what we do.
Try our mortgage calculator, new comparison engine or let a qualified mortgage broker help build your dreams with one of our popular Canadian mortgage products...
1. NO MONEY MORTGAGE en français?
Many young families can afford a mortgage payment, but with the high cost of living it can be difficult to save for a down payment. With the No Money Down Mortgage, you can stop renting & start building equity today.

2. FIRST TIME HOME BUYER MORTGAGE
Buying a first home is a very exciting time. If you've never had a mortgage before, we can help. Our team of mortgage brokers and specialists are more then happy to answer any questions you may have. All of our consultations are free and you will never have to pay us. Our commitment is to find you the best mortgages Canada has to offer.
3. BEST RENEWAL RATE MORTGAGE
Have you received your mortgage renewal in the mail? Don't just sign the form and send it back to the lender. Over 70% of mortgage holders do just that, and what is the usual result — a higher mortgage rate and a product that might not be best suited to their needs. We will beat your bank's offer and switch your mortgage to a new lender at no cost!
4. VARIABLE RATE MORTGAGE
There has never been a better time to take advantage of the variable rate mortgage. With prime at a near-all-time low, this is one of the most effective mortgage products on the market! The Variable rate mortgage gives you the opportunity to save money while the prime lending rate is good and the comfort of knowing that when the time is right you can switch to a fixed mortgage.
Or apply for the lowest rates on...

1. SANS MISE DE FONDS English?
Nombre de jeunes couples avec ou sans enfants ont les moyens de rembourser un prêt hypothécaire sans avoir, pour autant, à cause du coût élevé de la vie, la faculté d'économiser pour un apport initial. Ils n'en ont pas moins aujourd'hui, grâce à l'hypothèque sans mise de fonds, la possibilité de cesser d'être locataires pour devenir propriétaires et se constituer un actif immobilier.

2. HYPOTHÈQUE POUR ACCÉDER À LA PROPRIÉTÉ
L'achat de sa première maison constitue un des grands moments de sa vie. Mais peut-être que vous n'avez jamais pris d'hypothèque. Ne craignez rien : notre équipe, qui est formée de courtiers et spécialistes hypothécaires, est là pour vous aider. Et elle se fera un plaisir de répondre à vos questions, quelles qu'elles soient. Toutes nos consultations sont gratuites, et vous n'aurez ainsi jamais rien à nous payer. Notre mission: vous trouver les meilleures hypothèques du marché canadien.
3. RENOUVELLEMENT AUX MEILLEURS TAUX
Avez-vous dernièrement reçu votre renouvellement hypothécaire par la poste? Si oui, ne vous empressez pas de le renvoyer dûment signé au prêteur! C'est là, précisément, l'erreur que commettent plus de 70% des détenteurs d'hypothèques. Car ceux-ci se voient alors assigner un taux d'intérêt plus élevé et un produit susceptible de ne pas leur convenir. !
4. HYPOTHÈQUE À TAUX VARIABLE
Les temps n'ont jamais été plus propices à l'hypothèque à taux variable. Aujourd'hui que les taux préférentiels ont atteint un des niveaux les plus bas jamais enregistrés, elle se présente comme une des plus avantageuses modalités hypothécaires du marché. L'hypothèque à taux variable présente un double avantage : a) vous faire économiser de l'argent quand le taux préférentiel est intéressant, b) savoir, lorsque l'occasion s'avère propice, que vous pouvez vous reporter sur une hypothèque fermée.
| | |
| --- | --- |
| Je voudrais s'appliquer pour... | |
Nos Services...

Italian: Junto com a rede brokering do mortgage canadense nacional de CanEquity nossos serviços novos do mortgage estão absolutamente livres e podem conservá-lo milhares dos dólares em cargas de interesse elevadas e em pagamentos mensais. Encontrando o o mortgage direito de 75 instituições emprestando principais através de Canadá é o que nós . Tente nossa calculadora do mortgage ou deixe-nos ajudar construir seus sonhos com um de nossos produtos canadenses populares do mortgage... Comece um inquérito LIVRE da qualificação! Nenhum Dinheiro Mortgage Para baixo! Mortgage Home First-Time Do Comprador! O Mais melhor Mortgage Da Taxa De Mortgage! Variable Da Renovação Da Taxa!
Portuguese: Insieme alla rete brokering di ipoteca canadese nazionale del CanEquity i nostri nuovi servizi di ipoteca sono assolutamente liberi e possono conservarli migliaia dei dollari sulle alte spese di interesse e sui pagamenti mensili. Trovandoli la giusta ipoteca da 75 istituti di credito importanti attraverso il Canada è che cosa. Provi il nostro calcolatore di ipoteca o contribuiamo a sviluppare i vostri sogni con uno dei nostri prodotti canadesi popolari di ipoteca... Ottenga un'inchiesta LIBERA di qualificazione! Nessun Soldo Giù Ipoteca! Ipoteca Domestica Principiante Del Compratore! Ipoteca Di Tasso Di Mortgage! Variable Di Rinnovamento Di Tasso Migliore!
Spanish: Junto con la red brokering de la hipoteca canadiense nacional de CanEquity nuestros nuevos servicios de la hipoteca están absolutamente libres y pueden ahorrarle los millares de dólares en altas cargas de interés y cuotas. Encontrándole la hipoteca derecha a partir de 75 instituciones de préstamos importantes a través de Canadá es lo que lo hacemos. Intente nuestra calculadora de la hipoteca o ayudemos a construir sus sueños con uno de nuestros productos canadienses populares de la hipoteca... ¡Consiga una investigación LIBRE de la calificación! ¡Ningún Dinero Abajo Hipoteca! ¡Hipoteca Casera Nueva Del Comprador! ¡La Mejor Hipoteca De la Tarifa De Mortgage! Variable De la Renovación De la Tarifa!
Together with CanEquity we'll match you with the lowest Canadian mortgage rates and best possible terms available. And, if that's not enough, we will do all the research and paperwork necessary to get your mortgage application approved, saving you the time and trouble of going to the bank. Plus, you can feel confident knowing that our preferred lenders are CMHC approved See full list.
List of Approved Lenders
close list
We'll compare the lowest Canadian mortgage rates from these CMHC approved lenders.
AGF Trust Company
Alberta Motor Association Insururance Company
All Nations Trust Company
Alliance des caisses populaires de l'Ontario Ltée
AMA Financial Services Ltd.
Assumption Mutual Life Insurance Company
ATB Financial
Aylmer & Sherbrooke Investments Inc.
B2B Trust
Bank of America Canada
Bank of Montreal
Bank of Montreal Mortgage Corporation (BMMC)
Bank of Nova Scotia
Bank West
BC Community Financial Services Corporation
BC Housing Management Commission
BNP Paribas (Canada)
Bridgewater Financial Services
Brunswick Credit Union Federation Ltd.
Caisse centrale Desjardins
Canada Life Assurance Co.
Canada Life Mortgage Services Ltd
Canada Mortgage and Housing Corporation
Canada Trust Company
Canada Trustco Mortgage Co.
Canadian Imperial Bank of Commerce
Canadian Mortgage Capital Corp
Canadian Western Bank
Canadian Western Trust Company
CIBC Mortgages Inc. (CMI)
CIBC Mtgs Inc./Firstline Mtgs.
CIBC Trust Corporation
Citibank Canada
Citizens Bank of Canada
Civil Service Cooperative Credit Society (CS Coop)
Clarica Life Insurance Company
Clarica Trust Company
Co-operators Life Insurance Company
Community Trust
Conexus Credit Union Ltd.
Co-operative Trust Company of Canada
Cooperative Credit Society of Manitoba
CPF Advisory Services Ltd.
Credit Union Central Alberta Ltd.
Credit Union Central of B.C.
Credit Union Central Nova Scotia
Credit Union Central of Ontario
Credit Union Central Saskatchewan
CS Alterna Bank
Desjardins Financial Security
Duca Financial Services Credit Union
Effort Trust Company
Empire Life Insurance Co.
Equitable Life Insurance Company Canada
Equitable Trust Company (The)
Fédération des caisses Desjardins du Québec
Fédération caisses populaires acadiennes Ltée
Fédération caisses populaires Manitoba Inc.
Fédération caisses populaires de l'Ontario Inc.
Fiducie Desjardins Inc.
First National Financial Corp.
First Nations Bank of Canada
GMAC Commercial Mortgage of Canada
GMAC Residential Funding of Canada Ltd.
GMIC Inc.
Great West Life Assurance Co.
Hepcoe Credit Union
Home Trust Company
Household Trust Company
HSBC Bank Canada
HSBC Trust Company (Canada)
Industrial Alliance Life Insurance Co.
Industrial-Alliance Pacific Life Insurance Co.
ING Bank of Canada
ING Mortgage Broker Services Inc.
IntesaBCI Canada
Investors Group Trust Co. Ltd.
Investors Syndicate Ltd.
La Capitale MFQ Insurance Inc
Lambton Financial Credit Union Ltd.
Laurentian Bank of Canada
Laurentian Trust of Canada Inc
League Savings & Mortgage Co.
London Life Insurance Co.
M.R.S. Trust Company
Manitoba Housing & Renewal Corporation
Manufacturers Life Insurance Company
Manulife Bank of Canada
Maple Trust Company
Maritime Life Assurance Co
MCAP Financial Corporation
MCAP Service Corporation
Merrill Lynch Canada Inc.
Merrill Lynch Capital Canada
Montreal Trust Company of Canada
Montreal Trust Company
Montrose Mortgage Corp. Ltd.
Murray & Company Holdings Ltd.
National Bank of Canada
National Bank of Greece (Canada)
National Life Assurance Company of Canada
National Trust
New Brunswick Housing Corp.
Newfoundland and Labrador Credit Union Ltd.
North York Community Credit Union Ltd.
Ontario Municipal Employees Retirement Board (OMERS)
P.E.I. Housing Corp.
Pacific and Western Bank of Canada
Peace Hills Trust Company
Penmor Investment Services Ltd
Peoples Trust Company
Prêts Hypothécaires CDPQ inc.
Promutuel Capital, Société de Fiducie
Prudential Insurance Company of America
PW Capital Inc
ResMor Trust Company
Royal Bank of Canada
Royal Trust Company
Royal Trust Corp. of Canada
Saskatoon Credit Union (2002)
Scotia Mortgage Corporation
Security Life Insurance Co
Services Hypothécaires CIBC Inc.
Société de Fiducie Natcan
Sottomayor Bank Canada
SSQ, Société d'assurance-vie
St. Stanislaus-St. Casimir's Parishes Polish Credit Union Ltd
Standard Life Assurance Co
Standard Life Trust Company
State Bank of India (Canada)
Sun Life Assurance Co. Canada
The Fire Department Employees Credit Union Ltd.
Toronto-Dominion Bank
Transamerica Life Canada
Trust Général du Canada
Union of Canada Life Insurance
Union Life Mutual Assurance Co
Vancouver City Savings Credit Union
Apply online for
canadian mortgage rates
and we'll find today's low interest rates from these banks. Also try our mortgage calculation to see interset payments and what you qualify for.
Together with CanEquity Mortgages, we can offer the lowest canadian mortgage rates to all of Alberta, British Columbia, Manitoba, New Brunswick, Newfoundland, North West Territories, Nova Scotia, Nunavut, Ontario, Prince Edward Island, Quebec, Saskatchewan, and Yukon. And also morgages to residents in these canadain urban areas... Toronto, Montreal, Calgary, Edmonton, Winnipeg, Mississauga, Vancouver, London, Ottawa, Hamilton, Laval, Surrey, Brampton, Windsor, Saskatoon, Burnaby, Kitchener, Markham, Regina, Quebec, Richmond, Burlington, Oshawa, Vaughan, Saint Catharines, Oakville, Longueuil, Nepean, Thunder Bay, Cape Breton, Halifax, Gloucester, Richmond Hill, Cambridge, Abbotsford, Coquitlam, Saanich, Guelph, Gatineau. Find the best mortgages in Canada right here.